Service-Learning Leaders
Celebrate UNI Service-Learning Leaders 
This page is dedicated to recognizing and honoring UNI's Service-Learning Leaders! Thank you for your exceptional commitment to our students and the greater community. As of Spring 2023, 1,986 students enrolled in SL courses (since fall 2020). These courses enhance student learning and support retention. In addition, the community benefits from access to university resources, increased capacity for solutions to community needs, and opportunities to contribute to the educational process. This is made possible due to your efforts, dedication, and commitment to excellence in teaching. As an early adopter, we appreciate your timely and important leadership to make UNI a more engaged campus.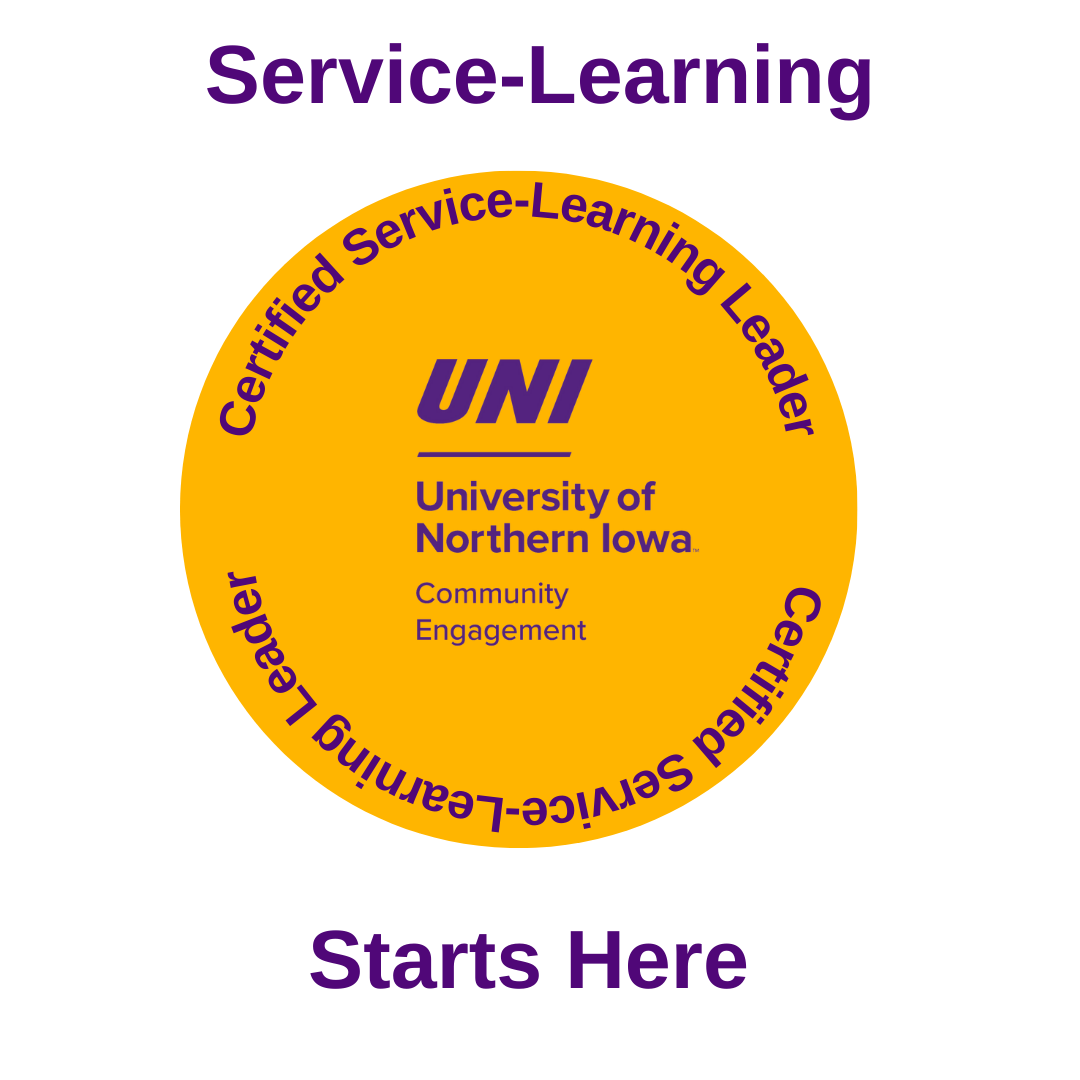 Wilson College of Business 
Accounting
Linda DeBarthe 
Cathalene Bowler
Economics
Marketing & Entrepreneurship
College of Education
Curriculum & Instruction
Brandy Smith
Allison Barness*
Recreation Tourism, & Nonprofit Leadership
Julianne Gassman*
Kristina Kofoot*
Rodney Dieser*

Emily Hanson

 
College of Social and Behavioral Sciences
Family, Aging & Counseling
Heather Kennedy
Jacquelyn Preston
Anne Plagge
Gary Gute
Geography
History
Barbara Cutter
Emily Machen
Jennifer McNabb
Nathan Arndt
Nursing and Public Health
Political Science
Jayme Renfro*
Justin Holmes
Social Work
Women's & Gender Studies
College of Humanities, Arts, and Sciences
Applied Engineering & Technical Management
Art
Riva Nayaju*
Wendy Miller*
Elizabth Sutton*
Communication & Media
Bettina Fabos*
Philip Hopper*
Nichole Zumbach Harken*
Dana Potter 
Charles Rudick
Francesca Soans
Languages and Literature
Adrienne Lamberti*
Caroline Ledeboer*
David Grant*
Jennifer Cooley*
Deb Young*
Juan Castillo
Jim O'Loughlin*
Hilal Ergul
Theater
Philosophy & World Religions
Rod Library 
Anne Marie Gruber* (Library Liaison for Community Engagement)
* Indicates individuals who have attend a Service-Learning Institute. 
Italics indicate individuals no longer at the university